1
« on: September 11, 2021, 11:17:42 AM »
Well now I'm confused as I thought all versions I had worked in Vice.

Anywho here is the one I think I tried previously that I couldn't get working.

https://www.dropbox.com/s/3op36ni11dubu72/The%20Sacred%20Armour%20Of%20Antiriad%20-%20Copy.tap?dl=0

It's one of the two.

I recorded this TAP to a tape and it loaded on the real hardware fine.I'm not sure what's wrong on your side.
It might be your PC somehow limiting the output or your datasette is well used and underperforming.
You can try pushing it to the limits.
1.Max out the USB speaker volume.
2.Go to Audiotap advanced options and set the output frequency to 96000Hz.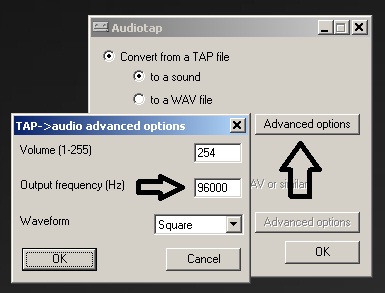 Try recording it again to tape.